An Air Conditioning Fashion Statement
---
Sometimes the smartest fashion is the simplest, like when your heating and air conditioning system needs service work. It's times like this that a simple shoe cover seems more sublime than the smartest Gucci loafers; especially when the shoe cover protects your carpets and floors.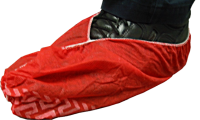 If you think this kind of extra care is unusual, wait until you see the care we take with your heating system. Save the enclosed shoe cover and give us a call the next time you need service. Mention this page from our wab site to our technician and we'll take $20 off the cost of service. And if our technician fails to wear shoe covers, we'll double the savings! Take another $20 off.
Call Jacobs Air Conditioning & Heating…
When you want a family owned, neighborhood company who cares.

When you want a service technician who knows he's a guest in your home, acts like one, and cleans up.

When you want repairs done quickly, done right, and done at a fair price.

Want some shoe covers of your own?
When we're servicing your heating and air conditioning system, simply ask our technician for a pair.
(618) 529-2989
Springtime is Tune-Up Time
Get your air conditioner or heat pump tuned up now to:
© Service Roundtable